Abolish jargon monoxide & boring marketing
I work with top companies blending strategy + creativity + comedy to generate bold ideas, results, and laughs.
Marketing "as usual" can cause snoredom and jargon-stipation for your audiences. You're not boring. Your marketing shouldn't be, either.
Now imagine idea orgasms – those big a-ha! moments – that lead to better marketing content, storytelling, products, branding, customer service experiences, and sales! When teams collaborate playfully, they unleash fresh, fantastic ideas that never existed until they created them together. That's better for real people: you, your teams, and your customers. That's "keeping it human."
Let's build a storytelling and storymaking culture full of amazing ideas.  Together we'll show boring who's boss!
Workshops, Facilitation, Storytelling, Speaking: What are you looking for?
Reach out today. I'd love to help generate results for your organization.

"Big brands need to take down the marketing firewall to create more meaningful, human & interactive 'we' moments with audiences." @kathyklotzguest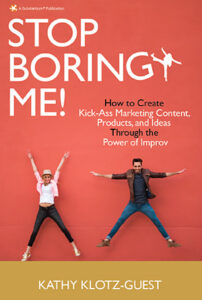 "Research shows that 92.3% of audiences are, in fact, human!"
Check out my latest book
"Stop Boring Me!" How to Create Kick-Ass Marketing Content, Products and Ideas Through the Power of Improv."
"Stop Boring Me!" was named a must-read marketing book for 2017 on Inc.com!
"Kathy is funny, insightful, kicks boring in the butt, smart as hell, engaging, and inspiring."
"Kathy did a phenomenal job keynoting our inaugural Visual Storytelling conference. The simplicity of her message coupled with fun interactive drills – totally engaged our audience. Simply inspiring!"
"Kathy has fun and it's infectious. She is credibly authentic – she doesn't talk about it, she shows it. The energy was fantastic."
"Kathy's style is engaging, relevant and inspiring. Thank you, Kathy!"
"If you want a speaker that will bore the crap out of your audience, don't hire Kathy. If you want to laugh, engage, interact, and walk away with ideas that you created during one of her talks, then Kathy is YOUR speaker."
"Kathy's expertise shines. She provided great insights our team will use to every advantage. And her enthusiasm, humor and energy made an outstanding Brand Team All-Hands!"
"Wow! Kathy is a great speaker. How she manages to consistently weave humor and storytelling with practical advice can only be appreciated by being in her audience. She sprinkles practical gems with stories. Kathy is passionate, entertaining and authoritative!"