Ignite a culture of creativity so people and ideas thrive
I help business brands, teams, and leaders champion the people side of marketing and innovation – getting people to collaborate, use more of their ideas and elevate the human factor. Whether it's storytelling content or innovating CX, employees want to use more of their creative superpowers. Creating innovative, people-first cultures and solving real business challenges starts with shaping agile mindsets. Using a mix of strategy, play and humor, we help people see differently to see what's possible.
Take down silos and barriers that keep employees from taking creative risks

Inspire collaboration to solve key innovation challenges (learn more)

Strengthen your organization's storytelling abilities

Abolish boring, jargon-monoxide-filled marketing
Improv in Business: Speaking, Keynotes, Workshops, and Facilitation
A storytelling and creativity culture means employees feel creative, have fun and use stories to collaborate on new marketing, services, products, and experiences that make peoples' lives better. While I work with various industries (consumer goods, healthcare, nonprofits), I specialize in tech and business brands (financial, agencies).
Kathy served as closing keynote at AMA Cincinnati's 2018 Ignite CX Conference. A highlight of the program, she delivered the perfect balance of humor and thought-provoking content in a highly engaging, energetic, relevant presentation. She is exceptional, and attendees are still talking about, quoting, and applying Kathy's concepts in practice! – Gina Bonar, Past Chapter President

Kathy's approach to creative ideation is inspired, fun, and unique. She helped us stretch the boundaries of how we approach content for our organization with such fresh thinking. Kathy's workshop helped us see the evolving role of content as creative expression for our brand. I highly recommend! – Lizz K.,  Sprout Social

Thanks for leading a terrific b2g session, Kathy. You rocked it!! – Lucie Newcomb, board advisor, brand2global conference.

Kathy was nothing short of spectacular! – Nina Taneja, Director of Sales, Juniper Network

Kathy did a phenomenal job keynoting our inaugural conference. The simplicity of her message coupled with her fun interactive exercises, completely engaged our audience. Simply inspiring! – Shlomi Ron, Visual Storytelling Institute

"Big brands need to take down the marketing firewall to create more meaningful, human & interactive 'we' moments with audiences." @kathyklotzguest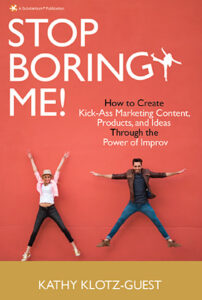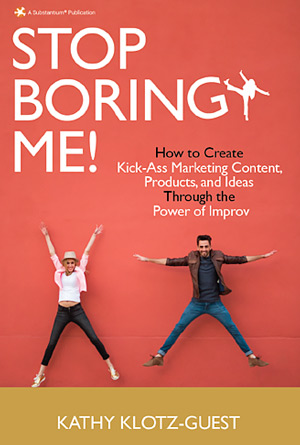 "Research shows that 92.3% of audiences are, in fact, human!"
Check out my latest book
"Stop Boring Me!" How to Create Kick-Ass Marketing Content, Products and Ideas Through the Power of Improv."
"Stop Boring Me!" was named a must-read marketing book for 2017 on Inc.com!
"..And it was named to LinkedIn.com's Top 25 Must-Read Marketing Books 2017″
"Kathy is funny, insightful, kicks boring in the butt, smart as hell, engaging, and inspiring."
"Kathy did a phenomenal job keynoting our inaugural Visual Storytelling conference. The simplicity of her message coupled with fun interactive drills – totally engaged our audience. Simply inspiring!"
"Kathy has fun and it's infectious. She is credibly authentic – she doesn't talk about it, she shows it. The energy was fantastic."
"Kathy's style is engaging, relevant and inspiring. Thank you, Kathy!"
"If you want a speaker that will bore the crap out of your audience, don't hire Kathy. If you want to laugh, engage, interact, and walk away with ideas that you created during one of her talks, then Kathy is YOUR speaker."
"Kathy's expertise shines. She provided great insights our team will use to every advantage. And her enthusiasm, humor and energy made an outstanding Brand Team All-Hands!"
"Wow! Kathy is a great speaker. How she manages to consistently weave humor and storytelling with practical advice can only be appreciated by being in her audience. She sprinkles practical gems with stories. Kathy is passionate, entertaining and authoritative!"
"Kathy's approach to creative ideation and concepting is fun, inspired and unique. Incorporating elements of improv to stretch the boundaries of how we approach content for our organization was such a great way to bring fresh thinking and perspective to the work we do. Content doesn't have to be purely functional, and Kathy's workshop helped us to see the evolving role of content and its capabilities for brand building and creative brand expression. Highly recommend!"
"Kathy was nothing short of spectacular!"