Lady Doritos and a Missed Marketing Opportunity
Oh Doritos! How I love thee. I do. And I don't mind saying that to the world. I ate so many – Cool Ranch, please! – when I was pregnant. I should have bought stock in the company! Yet, they missed a huge opportunity with Lady Doritos (#ladydoritos) on Twitter.
#Ladydoritos on Twitter was hilarious. I wrote a few tweets. It was fun. How could I not jump in?
Here is the thing: the story got away from the brand. Quickly.
It started with a few articles – including one from AdWeek that quoted the female CEO of PepsiCo saying how women and men's snacking needs are different. And women want snacks that fit into their purse.
Wait…What?? Exactly.
The internet went nuts. And brilliantly so. I tweeted @PepsiCo because they were  conspicuously silent. The company responded with suited-up corp speak.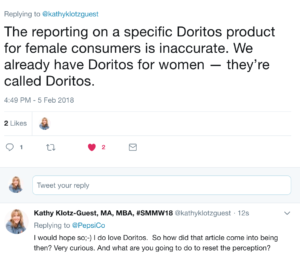 I believe they missed a big opportunity. Aside from PepsiCo's recent missteps with thinking that Pepsi could solve racial relations in America with a Jenner spokesperson, Doritos itself as a brand nailed the #superbowl #spitfire ad.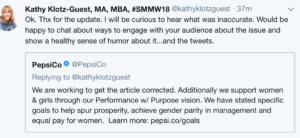 So, what the heck happened?
Doritos is a fun brand! Or so, we thought.
Yes, the mere idea of a Lady Doritos product is a bad one. Really. Women's chip snacking needs don't include crunch differences, for example (among other things)
A Few Thoughts
So what might have happened? How could Doritos have responded in a way that was – well – better and engaging? I think the company should have jumped in to the convo with honesty, humility & playfulness and done the following:
1. Engage. Where we they? I got a response because I tagged them. They were silent. Chirp, Chirp – ironic, because it is Twitter!
2. Create some fun tweets and admit #ladydoritos is a silly idea. In their tweets, they could show strong women – like the PepsiCo CEO herself. Imagine her in a funny response showing that the company has a lighter side! Now, who wouldn't love to see her response eating a bag of Doritos – loudly and proudly?! YES!
3. Drop the corporate veil; be human. Say "we hear you loud and clear." And use fun to correct any misinformation.
4. Don't get defensive and try to educate people on what you're doing for women (see the response to my tweet above(. That was not the time – too convenient and weirdly so.
What do you think the company could have done to help the conversation?
**********************************************************************
Kathy Klotz-Guest is a story and creativity strategist, speaker and author. An improviser and comedian as well as an MBA, MA, Kathy brings interactivity, inspiration and innovation to events, talks, and workshops. Interested in having her speak at your company? <a href="https://www.keepingithuman.com/contact-kathy/">Contact Kathy</a>.