Improv + Storytelling Strategy
All great marketing and culture is storytelling. And your story is bigger than your products and services!
Do you have a story strategy? Are stories documented and shared internally? Or maybe you have a big story about new technology that needs to be anchored in the familiar and made accessible in a way people can hear. I help your team uncover the human in your brand story that powers all you do. Then we help you bring your stories and content to life.
I also help organizations develop collaborative storytelling cultures where employees and customers drive the brand forward.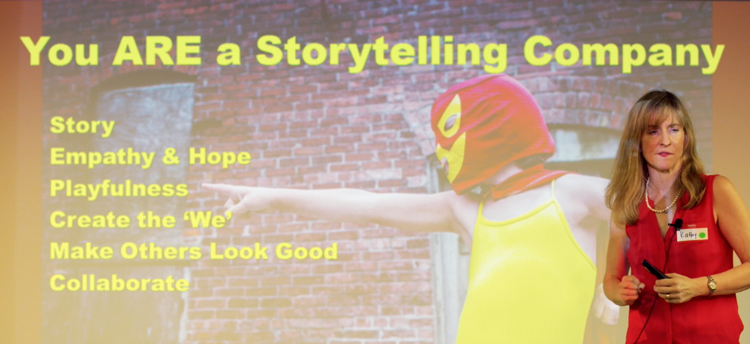 Got an event coming up? Hire Kathy.
All fields required.
CASE STUDIES
When the executive communications department at Cisco, a large high tech company, came to Kathy they had a big need: help top executive communicators create compelling messages both inside and outside the corporation that would inspire, humanize and tell a bigger story/
Results
Kathy eliminated jargon, and put the emphasis on human benefits, not the technology:
We told stories of Cisco's employees helping people at client companies – through the lens of Cisco's amazing employees: One example – we told the story of people with businesses who had lost data in Australia's 2012 flood. We showed how Cisco employees helped clients get their businesses up and running again. This was a story with real people and without jargon that reinforced the then tagline, "The Human Network" in a way that data could not.
Executives went from presenters to executive communicators with a story.
We reduced production overhead in company exec communication programs due to huge, ineffective decks.
The company created compelling stories that drove sales and inspired employees!
Roger Boor, Principal of New Business Consultants, had no intent of realigning his business. Instead, he wanted to touch customers and partners and gather quantitative information on customer satisfaction. Kathy went beyond the normal check-in questions as Roger describes it. "Kathy asked the HARD questions about how people really feel. According to New Business Consultants, the actionable data about customers' real needs and perceptions blew some assumptions away, as Roger puts it. "The trickle down of nuggets was that my idea of how we were perceived by others was almost entirely incorrect. Without Kathy's help and process, we wouldn't know. The work we did with Kathy was the beginning of an important education after I thought I knew it all."
Results
New Business Consultants eventually shifted its business model based on results of the survey. "None of that starts without this process of research. Today, the company is incredibly busy and we are on track to have one of our most profitable years," says Roger.
Kathy then helped New Business Consultants create a 'human' story to tell about how they realigned their business and saw it grow. This wasn't a Cinderella story. Their journey wasn't easy and it was a lot of work. It was relatable, optimistic and real. "Kathy listened and crafted a human, compelling story based on our conversation that really captured the hard work and the risks we took embarking on this new direction," recalled Roger. "I related the story of how we did the hard work – work we are still doing – to shift our model to our employees. They were inspired by our commitment, and in turn, motivated to participate. It was a story of effort; of not being sure we would succeed, of doing the real mindset change and taking some risks." Kathy highlighted the human element. We're more than just a 'finance and accounting solutions' firm. We care about the success of our clients, too. What better way to underscore our credibility as experts than by telling the story of our own journey as we re-shaped our business? Kathy helped us define and own that story."
The Founder of Diamond Dynamic, Mike Johnson, had written a book on gender dynamics and was looking to use it to further his consulting business with bigger businesses. When he came to Kathy, he wasn't having a lot of success getting to the right people in companies.
Results
Instead of targeting diversity managers with little authority, we refocused his efforts on senior executives, including, CEOs, COOs, Chief Talent Officers and Senior VPs of HR.
We completely refocused his pitch and humanized the message giving leaders a reason to care. Kathy researched key data on what happens when women are better supported at work: revenues increase substantially. We also created urgency by tying the letter to a new report showing that diversity training doesn't work; by contrast, teaching people to better understand how each gender communicates does! It's a real revenue issue.
We focused not on training, but on the communications skills needed for 21st century market leadership – an issue that is directly related to company performance. By elevating the message to one tied to returns, we elevated the urgency and immediacy of taking action.
We invited executives to a meeting, and in return for providing Diamond Dynamic with information on their key communication challenges that would allow us to customize our messaging (market research, anyone?!), we provided a free copy of the book.
As a result of a new campaign targeting executives, he increased his appointment rate from less than 10% to over 70%, and closed five new corporate deals in the first month of the letter campaign.
"I am a sales guy, and I realized I was no marketing expert. I had the wrong target, the wrong message and the wrong execution. Kathy's marketing campaign produced (and is still producing) results (money in my pocket) far better than I could have imagined! I plan to use Kathy for my future marketing efforts and so should you. She is terrific! " -Michael Johnson, President, Diamond Dynamic
When the principals of the Marketing Operations Future Forum approached Kathy, they had an exciting, "new to-the-world" idea. What they didn't have is clarity around the value they created to their market and a clear way of telling their story to the world. Buried under layers of complexity, jargon and buzzwords including, "gamification," and "paradigm shifts," was an idea and the team was struggling with how to describe their product to high level prospects at Fortune 500 companies, on their website and overall messaging.
Results



As a result of working with Kathy, the company was able to:
Describe in human-speak the true human, and economic value they brought to the world
Eliminate the convoluted jargon and focus on results they bring to customers
Identify the key stakeholder groups they serve, and adapt messaging to each group
Come up with great analogies people already understand to communicate what they do
Elevate their story to one that their key prospects "got"
Develop a tactical plan for telling their story with fun videos that simplify their story
According to Gary Katz, chairman of Marketing Operations Partners,
"Kathy excavated our value in human terms. In doing this, she enabled us to articulate our message and test its value proposition, culminating in a re-brand around the theme of 'continuous marketing effectiveness'. This new positioning has helped us to close more business and win more sponsors faster because our value is now a no-brainer — un-ambiguous and easy to understand. If you need help communicating your real value in a clear and compelling way, go to Kathy."
EnAct Systems Inc., a marketplace for clean energy savings, was launching its brand to the world. ThinkResultsMarketing, a Palo Alto firm that was hired to launch EnAct's website and brand identity, brought in Kathy to create content, give it a human voice, and create compelling calls to action.
The goal with this launch was to demystify the clean energy products market by making information easy and accessible so that more customers could take advantage of savings today. To bring content to life, Kathy weaved a friendly, approachable tone throughout the site, simplified convoluted information, eliminated industry jargon, and created a credible and powerful company story: The clean energy savings market was complex…until now. Savings shouldn't be for the privileged few who know how to navigate the complexities surrounding clean energy consumer products
Results
EnAct was chosen by the Department of Energy as one the top 100 most interesting energy startups in the nation! http://ow.ly/rBWAf. That's the keeping it human difference!
InfoQ.com is a popular site for programmers, architects, and software developers – leaders and innovators in their development teams. An engineering-driven organization, the company had no cohesive marketing plan, social media was sporadic and its story lacked focus. QCon is the conference.
We added content that told the story of the company and its mission to facilitate innovation in software development. By adding resources and technology for automation, as well as consistent high-quality story-based content, we scaled a consistent social media presence every day for both the InfoQ and QCon brands. We also created lots of content for distribution.
Results



As a result of working with Kathy from 2012 to 2014, the company was able to grow social presence, shape its story consistently, and increase readership and revenues:
Describe in human-speak the true social and economic value they brought to the world
Grow registered readership ~20%
Grow conference revenues (attendees and sponsors) 35% year over year.
A 60% increase in paid conference attendees for the last 4 conferences.
Increase its followers on Twitter by 32%, RTs by over 2X and social mentions over 2.5X
Increase social shares by >125% (FB likes grew 106%; LinkedIn followers 33 %)
Attract influencer coverage from media in the enterprise software development space
Not afraid to get her hands dirty, Kathy doesn't stop at the strategy. She deftly delivers the end-product. A rarity.
My story and bold purpose is the foundation and inspiration for Living Real Food. It is the heart of who and what we're all about. I really enjoyed the creative process Kathy used to craft, develop and memorialize my story…from her exploratory questions to the time she spent getting to know me, my passions, dreams and purpose to the way she crystallized it so well. In the end she captured the essence of my story, and purpose, in a succinct, compelling and powerful way. I would highly recommend Kathy to get to the heart and soul of your big human story.
As the marketing communications expert for Intermolecular, Kathy was my collaborative partner. Together we developed and ran a global, integrated marketing communications program for the company. Kathy's knowledge and strategic insight were instrumental in the success of the campaign. Her professionalism, ability to problem-solve by uncovering cost-effective strategies, attention to detail, and creativity were outstanding.