Improv + Storytelling Strategy
All great marketing and culture is storytelling. And your story is bigger than your products and services!
Do you have a story strategy? Are stories documented and shared internally? Or maybe you have a big story about new technology that needs to be anchored in the familiar and made accessible in a way people can hear. I help your team uncover the human in your brand story that powers all you do. Then we help you bring your stories and content to life.
I also help organizations develop collaborative storytelling cultures where employees and customers drive the brand forward.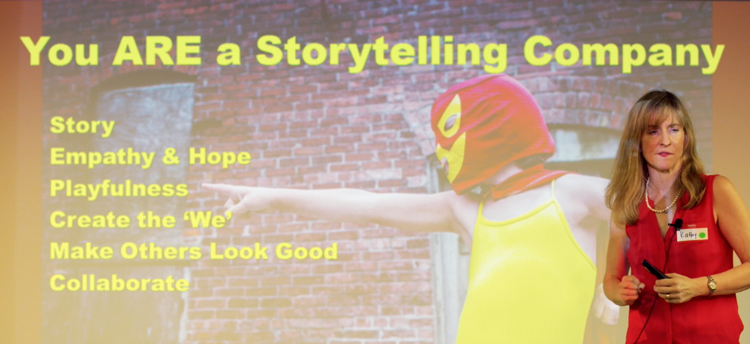 Got an event coming up? Hire Kathy.
All fields required.
Not afraid to get her hands dirty, Kathy doesn't stop at the strategy. She deftly delivers the end-product. A rarity.
My story and bold purpose is the foundation and inspiration for Living Real Food. It is the heart of who and what we're all about. I really enjoyed the creative process Kathy used to craft, develop and memorialize my story…from her exploratory questions to the time she spent getting to know me, my passions, dreams and purpose to the way she crystallized it so well. In the end she captured the essence of my story, and purpose, in a succinct, compelling and powerful way. I would highly recommend Kathy to get to the heart and soul of your big human story.
As the marketing communications expert for Intermolecular, Kathy was my collaborative partner. Together we developed and ran a global, integrated marketing communications program for the company. Kathy's knowledge and strategic insight were instrumental in the success of the campaign. Her professionalism, ability to problem-solve by uncovering cost-effective strategies, attention to detail, and creativity were outstanding.