Friday the 29th is National Fun at Work Day!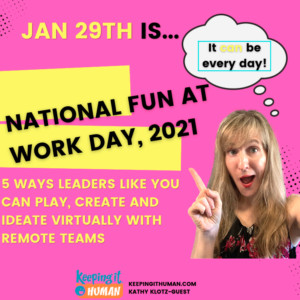 Some people think play is frivolous.
It isn't. And it's time to change the narrative on play.
Play is good for our mental well-being, happiness and for #innovation in #marketing, #products, across the company and your life.
It's how you play and whether teams feel #Psychologicalsafety while doing it that matters.
Leaders play. They encourage it in others. They take what they do seriously and don't always take themselves seriously.
I know sadly too many of us conjure up awful #HR – The Michael Scotts of the world who are well-intended and get things so horribly wrong.
Yet, play is used STRATEGICALLY every day to
-Develop creative ideas
-Relieve stress
-Improve #trust
In honor of Friday, here's a guide to add some structured / unstructured play to your #team #meetings and #virtualfacilitation.
Make people feel safe. Don't make play mandatory by MBO; that kills joy.
I have a downloadable PDF guide on adding fun and humor to your virtual meetings: 6 Ways Leaders Like You Can Play, Create and Ideate with Remote Teams.
It's national Fun at Work day (it CAN be every day!)
Want it? Contact Kathy and in the message say "Send me the PDF, please!" You can also let me know what content you are interested in. And sign up for the newsletter.