Let's talk about a serious issue… Less serious does not mean less professional.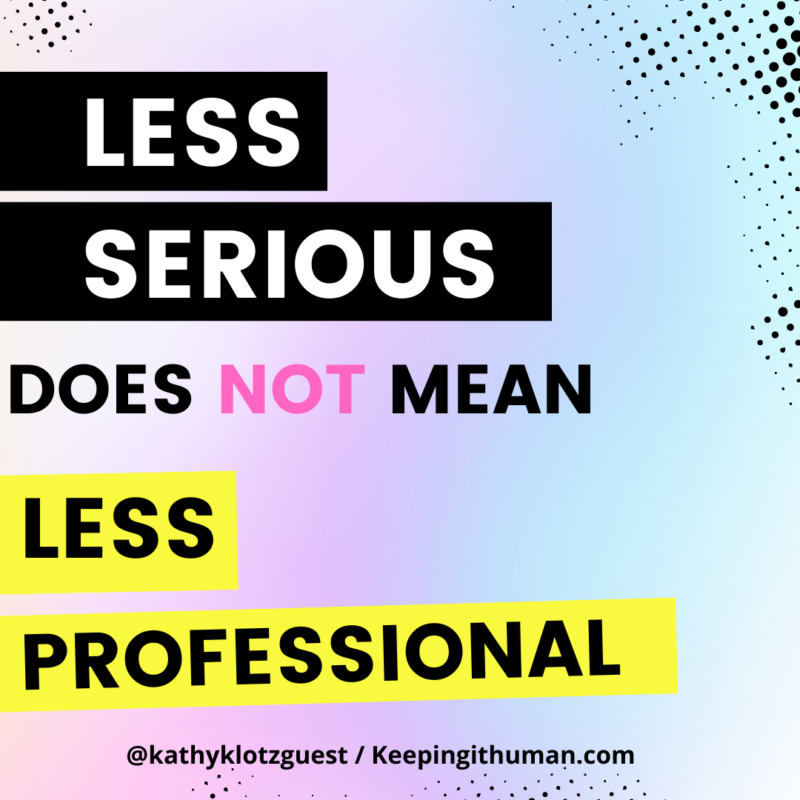 Being less serious.
THE false narrative many buy into, "Less serious means less professional." "I won't be taken SERIOUSLY."  I DISAGREE.
LOOK. I get it.
I led global communications and marketing teams in tech for 15 years. And I am also an improviser and stand-up comedian.
I trained executives on how to talk to media, respond on their feet, drop the script, be more human and dynamic, have more fun, and be more effective because of improv and comedy. From Silicon Valley / Stanford to Second City, yes, I am a BLEND of several worlds.
Yes, some people don't know what to do with levity. Why would I take advice from people who don't understand why it matters? And yes, some people told me not to be as funny at work or that if I wasn't serious I wouldn't be taken seriously. That's garbage. And I even recently addressed this on a global virtual keynote last October for the Speaking Your Brand Conference.
I use a lighter side to effectively say serious, important things.
You can, too.
You are a leader with many HUMAN sides.
Lead with Levity, Humor and Humanity
Leaders who lighten up:
-connect more / more trusted
-demonstrate empathy
-earn more / viewed as more competent (HBR)
-navigate uncertainty
-exhibit humility and humanity
Being less serious doesn't mean you are not serious about your work. It means YOU have the CONFIDENCE to be more human.
Q: Would you follow a leader who has no lighter side? I wouldn't.
Need help for you and your team? Give me a call or contact me.
*************************************************************************
Kathy Klotz-Guest helps leaders and teams break the old rules about innovation and storytelling.  An improviser and comedian as well as an MBA, MA who ran tech teams for years, Kathy brings interactivity, humor, energy and innovation to events, talks, and workshops. She'll have your audience laughing and learning and that's what it's all about. Well, *that* and the hokey pokey.
Interested in having her speak at your company?  Contact Kathy.